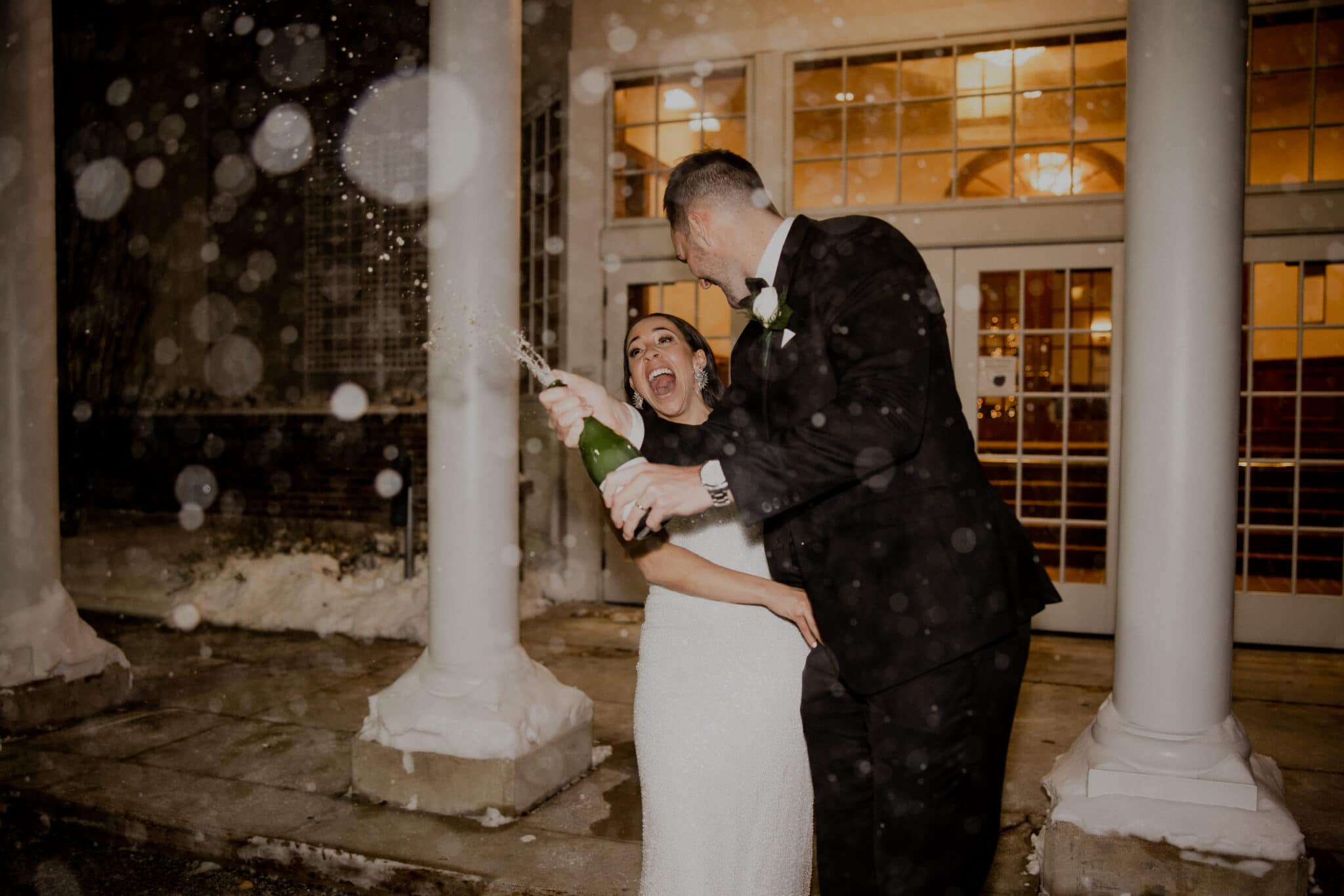 Ladies and gentlemen, I present to you finally and for always: Mr. & Mrs. Binninger!
The New Years Eve Celebration of Love for Derek and Kelli was the perfect way to close out the tumultuous year of 2020 which included 4 rescheduled weddings dates and 3 different venues for this patient and easy-going couple. Their pure joy to be with each other shown brightly through every moment and every snag, hiccup, and change of plans. Derek and Kelli are well-prepared with how to hold hands, stick together, and laugh at whatever challenges come their way. The best man didn't have the rings for a hot minute, but all was well with some laughter and Aunt Gina to the rescue. This family bursts with love, joy, and acceptance and as their cocktail napkins stated it's "about f*cking time" that these two got married!
~~~
Enjoy a few excerpts from this special ceremony.
We made it! We're here! Welcome finally to Kelli and Derek's wedding! 4th date. 3rd venue. 2020. And one love of a lifetime worth waiting for.
In the year of cancellations and limited activities, for many of you your only social interactions amongst family and friends have been this year's weddings and funerals. I apologize that for your only outings you've had to listen to me talk. But for me, serving your family throughout the extremes of this year has been a blessing. Weddings and funerals represent beginnings and endings, better times and worse times, health and sickness, and all the feels of life and of love. And we gather to show our loved ones that we are here for you, we will stand by you, and we love you during your happiest moments and your saddest days. And that's what makes a marriage, too.
For 5 years, and one of those years being 2020 so that's like 5 more years, Derek and Kelli have been growing together- enjoying life and weathering storms- with such grace and wisdom beyond their years. They are grounded in their faith and in such an understanding and acceptance that life is and will be uncertain. Yet, they embrace the challenge of life with graciousness, calmness, patience, gratitude, and unwavering belief in each other.
It may seem odd to some people to hear a person speak at a memorial service and feel compelled to have that person speak at your wedding. But that's how it often goes for me. And that's how it went for Derek and Kelli as our lives began to intertwine this year. They understand that their love story is a lifetime in the making.
Kelli told me that, "There are people you cross paths with in life that you're drawn to- weirdly like a soul connection- I felt like we needed you woven into our story." She went on to say, "Life is funny in that way- how certain things unfold and good things come as a result. Truly what life is all about- love and experiences and memories and feelings and the people you choose to keep around. I think tragedy allows you to see a different perspective on life, how truly fragile your loved ones are. And that, to me, is what life is all about: love."
So, I call upon Derek and Kelli to write their life story together with their words and actions, with their hearts and souls, every day until God calls them home. To be each other's favorite love story during the extremes and during the mundane. On behalf of Derek and Kelli, I invite you all to be part of their story as well. Not just the weddings and funerals. All the life in between. Dinners on Tuesday. "Good morning have a great day" texts. Ball games. Phone calls. Thoughtful errands. Helping hands. Be a part of their life story. Make the memories. Find the goodness. Keep the faith. Share the love. And live happily ever after.
~~~
Your union is based on love, but love isn't just a feeling it's an action. We have heard before that love is patient, love is kind, love protects. Love is actions. From the readings you chose we learn that these actions can be quite simple to be powerful and to be everything you truly need. Share, play fair, hold hands, stick together, laugh. Your vows express the actions you promise to take to show your commitment and faithfulness to each other. And you must carry out the actions of your vows all the days of your lives to perpetually secure your union.
~~~
Vows
(Derek) Kelli, it is impossible for me to put into words the passionate and infinite embrace you have on my heart. You make me whole. Committing the rest of my life to you is simple because without you I am nothing. Every morning I wake up and fall even more in love with you.
Kelli, you are the most loving and selfless person that I have ever known and you are beautiful inside and out. Your smile and joy for life light up my days. The hard work you put into your job and everyday life motivate me to be more like you. I love and admire all of the qualities that make you the incredible woman you are. I am blessed beyond measure to be your teammate for life. No matter what adventures and challenges await us, I have a calm confidence in my soul that together we will always find our way. I love you so much.
As we commit to our life together in front of those whom we are closest to, I make the following vows:
I vow to thank God each and every day that He gave me you.
I promise to be your rock and to always put your needs before mine.
I vow to let you smother me, and I will do the dishes even though I believe you are the only person who hates them more than me.
I vow to grow with you and to continually improve on my patience, love, and selflessness.
I vow to be the man you inspire me to be, the man you believe in, and the man that you deserve.
I vow to continue to make dinner and keep you well fed because that is the true way into your heart.
Finally, I vow to spend every day I have left on this earth showing you my unconditional love and faithful commitment.
I love you, Kelli.
(Kelli) Derek, I feel overwhelmingly lucky to be standing by your side today. FINALLY!
I want to acknowledge what an amazing man you are- not just to me but to all of our loved ones. Most obviously, you are tall, dark, and handsome (actually in Jason's words you are a tall drink of water). In all seriousness, you are infinitely more than looks; you are smart, respectful, happy, and kind. I admire how you are diligently determined to do your best at everything both personally and professionally. I appreciate that you are enthusiastic about making the most out of our life together, and you are definitely the most fun!
When we first crossed paths at the gym- that's where Jason's one-liner comes into play- I was able to see your confidence, motivational skills, and ability to provide encouragement. Little did I know in those moments how significantly your qualities would benefit our friendship, then our relationship, and now our marriage.
We are a team and that is something I am grateful for every day. It's important to recognize that our team works with compromise, patience, effort, arguments (mainly over who will do the dishes), and continuous growth. In the past 5 years, we've experienced so much together: adventures, accomplishments, growing pains, and losses. Looking back, it's all those things that make us as strong as we are today. This blissful moment will be challenged in the years to come as our individual careers change, our hobbies continue to evolve, and our family grows. Through these uncertainties, we will experience the extremes of joy and sadness and the calm and monotony in between. I am wise enough to know we will be tested, so I promise you this:
To love you with that same confidence and encouragement you showed me in the gym.
I promise to stand beside you through all of life's moments- from the happiest to the most challenging.
I promise to encourage your passion for softball, golf, and whatever else comes next.
I promise to be the teammate you can trust and to never lose sight of you and me- our friendship and the love that we've built.
Derek, you are the love of my life and the best thing that's ever happened to me. I will love you always.
~~~
The love Kelli and Derek share is a beautiful blessing. May their love grow and through strength, unity, and time be a blessing not only onto themselves but onto their families and the world around them. Help them, Lord, to stay connected in any adversity and to treasure and protect their marriage. May we, as their family and friends, commit to uphold and encourage them to the best of our ability.
May we always remember and honor our loved ones gone before us including Derek's grandparents, James & Irene Proud, and Kelli's Uncle Mark and especially those that were called home to God this year including Uncle Peter and Cousin Rick.
May we express abundant thankfulness for our friendships, our health, and our precious time. May we reflect and grow from the lessons this past year has taught us and may we usher in the new year with gratitude and peace. May we remember to laugh, to share, to play fair, to stick together. Please bless this food we are about to receive, and let this reception be a treasured experience that this couple holds in their hearts forever. Amen.
~~~
To the newlyweds, to the New Year, to the love of a lifetime! Cheers!