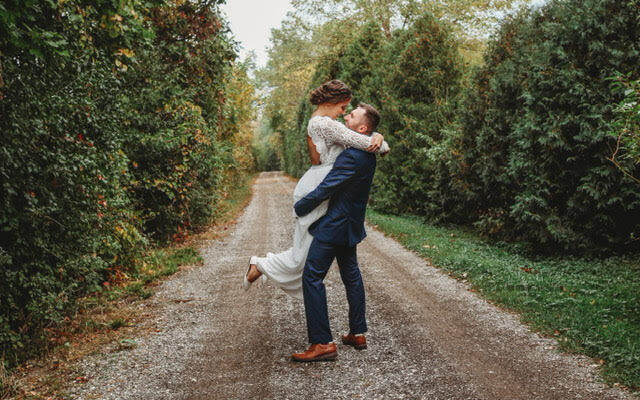 Ladies and gentlemen, I present to you for always: Mr. & Mrs. Reeves!
On a gorgeous fall afternoon, Will and Tia celebrated their love story and united in marriage. Their picturesque backyard provided the perfect venue for their special day. Family and friends gathered to celebrate the lovestruck couple and dinned on the newlyweds' favorite meal- pizza. After some dinner and dancing, Will and Tia did what only seems to be done in the movies- they waved good-bye, left the clean-up to their loving families, and headed to the airport. Their tropical honeymoon awaited them! It was tremendously enjoyable and inspirational helping these two beautiful souls join together as husband and wife.
Enjoy a few excerpts from this special ceremony below.
~~~
There is nothing greater in this world than finding the people with whom we feel safe, secure, and most ourselves. We search to find the person most accepting of our flaws; even the ones we try not to show until at least the 5th date. We search to find the person most encouraging of our dreams. Most of all, we search to find the person who loves us so unconditionally we simply can't do anything but believe it.
Tia and Will's search led them to the exciting yet challenging world of online dating. Their profiles quickly aligned and a date to meet was set. However, Will postponed their meetings not once but twice with reasons of "work" and "food poisoning." Tia was left wondering what was really up with this guy. On the third try, all Will needed to do was get to Tia's house. With the summer 2020 pandemic restrictions, a first date out on the town wasn't going to happen. Would this guy finally show up? Will, determined to meet Tia and truly not a man of excuses, surprisingly found one last obstacle in his way- the Kenosha riots. Will navigated his way through the chaos to arrive at Tia's door- no excuses.
Tia went to work the next day and professed to her co-workers, "I'm gonna marry him!"
The couple has spent every free moment together since their August 2020 meeting. With two children each, the four kids easily got along and blended together well. The love was shared by all and they were all on their way to becoming a family of 6!
Tia and Will both work in healthcare, and this past year has been riddled with almost daily changes and stressors. The couple has been able to navigate the challenges together with understanding and compassion.
Tia and Will enjoyed a fun Florida getaway in February without the kiddos. Then, in April they adventured on a hike around Devil's Lake. Will had a special plan for this hike, and he thought maybe Tia had figured it out. However, when she got in the car wearing purple shoes and high waters, he was reassured that his secret was safe. At a picturesque spot on the trail, Will set up the tripod for a picture of the both of them together. With the camera rolling, Will proposed. Tia briefly thought he was joking, let out a fake, "no," and then proclaimed, "Yes!"
They bought a home and moved in together that same month. Will said, "We lived a lifetime in a year."
Tia said, "I need someone who can keep up with me."
That's a fast pace to contend with, but Tia and Will are so in sync that they take it all in a very natural stride.
We are truly blessed with how people are placed in our lives according to God's plan and most especially according to God's timeframe. The timing was finally right for these two to meet and for their love to grow. They have formed a blessed and blended family with their children Paisley, Ryatt, Granger, and Rogan. Tia and Will believe in their love as do all of us gathered today to witness their marriage. As they go forth on their life journey together, they do so with confidence knowing that their search for love was an absolute success.
~~~
"A Vow" written by Wendy Cope
I cannot promise never to be angry; I cannot promise always to be kind. You know what you're taking on, my darling. It's only at the start that love is blind. And yet I'm still the one you want to be with. And you're the one for me- of that I'm sure. You're my closest friend, my favorite person, the lover and the home I've waited for. I cannot promise that I will deserve you from this day on. I hope to pass that test. I love you, and I want to make you happy. I promise I will do my very best.
~~~
Vows
(Will) Tia,
While writing my vows and trying to perfect words to match the way I see you, I realized something. We both know I tend to overthink things, but what I realized is, that's not the case with you. I've never been so completely seen, and every time I look into those golden eyes of yours, I feel like I'm home.
That feeling I've been searching for my whole life, I found in you. I never saw you coming, I wasn't looking for love, yet right from the first day we began talking I had this crazy connection to you that I just couldn't explain. I'd even find myself smiling with excitement every time my phone would buzz with a text from you. In all honesty, I still smile as I reach for my phone and see a text from you.
The night we went axe throwing, I was a nervous wreck. I figured since I always wear my heart on my sleeve that you knew I had been falling in love with you, but I was terrified the truth would scare you off. The fact was that I wasn't just falling in love with you, but I was completely and unconditionally in love with you. They say "when you know you know," and I had always thought that must be something Hollywood created because that feeling didn't exist in my world. Turns out whoever "they" are was right, because I knew even before I was willing to admit it that you are my forever. For the first time in my life, I truly know what love is. You, my love, are nothing short of my kind of perfect- my soul mate. You accept me for me, all the weird, all the crazy, my good and bad days, and even all my sappy love. I would say that I can't love you anymore than I do right now, but you've proven that wrong time and time again because somehow, someway, I fall more and more in love with you each and every day we are together.
You have a hold on my heart that I couldn't break even if I wanted to. I couldn't stop loving you any more than I could stop my own heart from beating. I am hopelessly and endlessly in love with you, Tia. I get lost in the feel of forever every time we touch.
I vow to pursue you with my whole heart every single day, to show you the love you deserve, to be the husband and best friend you can always count on to share your highest highs and lowest lows with. I promise to give you my everything and be the man you and the kids deserve. I couldn't be more excited to spend the rest of my life with you by my side. Most importantly, I will always choose you each and every day because, Tia, with your hand in mine, there is nothing this world can throw at us that we can't handle. I love you, Tia, with every ounce of my soul, and I'm going to spend the rest of my life loving you, forever and always.
(Tia) To Will,
The first time I saw you, I swiped right… I thought, wait… why is this man single? There have got to be red flags. We talked and FaceTimed to make sure you were real, and then you cancelled our first date… twice! I don't know why I stuck around but I'm glad I did.
From the minute I saw you, I knew you were made for me. You were my person and that was clear as day. You talked my ear off for hours, a conversation that was so easy. I was naturally comfortable around you, so much so that I told all the girls the next day we'd get married.
From day one you challenged me- as someone else who ALWAYS has to be right- I was hooked. I love that you have lame dad jokes, that you are incredibly impatient, and that you can be your true self with me always. I love that you sing loud and proud and that you dance with me. I love that you've become my little switch. I love that we eat pizza multiple times a week and that we eat ice cream almost every night in bed at 3 am. I appreciate that you love my boys as if they are your own and continue to teach them things every day. I love that you're my best friend and that you support me always.
You are the only person who's gotten to know my entire past to learn to love me through all my faults and brokenness. You always drive and open my doors, you insist on carrying everything. You let me pick all our movies, but play with my hair and put me to sleep before the title even makes it across the screen. I love that you always tell me I'm beautiful, even though 90% of the time I'm wearing pajamas. Most of all, I love the way you made me believe in love and love me a way I didn't think I would ever find. You make me feel safe and excited for what's to come.
Will- I promise to always love and respect you and to always put energy into keeping our love alive. I promise to be honest and communicate with you. I promise to cuddle with you each night and drool puddles on your chest. I promise to always remain a little sassy and to keep you on your toes. I promise to stick by your side in times of darkness and through challenges.
I promise to set the example of love for our four crazies and to show them what it means to love whole heartedly. I will continue to show you all my secret spots and hangouts. To continue to adventure with you and try new things- which I'll be better at than you.
William Reeves, I can't picture another day, another moment without you in my life. And if you'll let me, I'm gonna choose you right now. I'm gonna choose you tomorrow morning. I'm gonna choose you next week and next year. I'm gonna choose you forever. I love you.
~~~
May God be with you and bless you.
May you see your children's children.
May you be poor in misfortune, rich in blessings.
May you know nothing but happiness.
From this day forward.
~~~
To Mr. and Mrs. Reeves and a lifetime of love! Cheers!