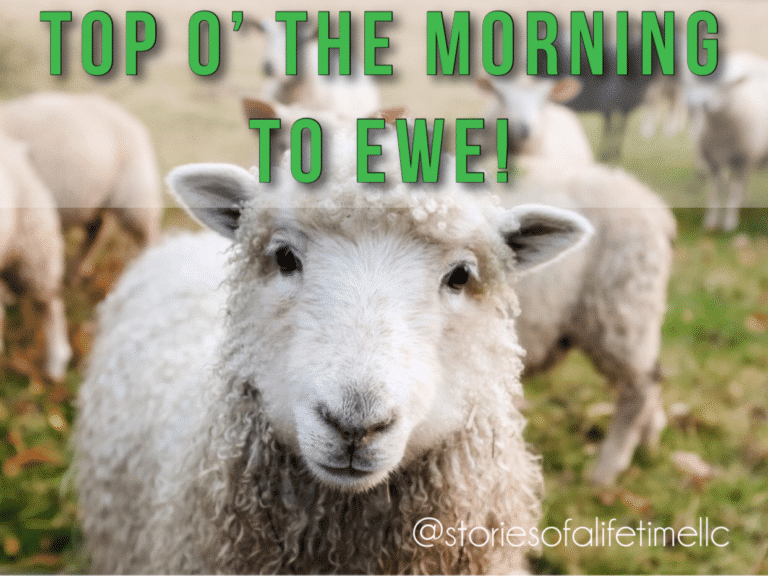 Stories of A Lifetime Presents: "The Letters"
Community correspondence sparked from the isolating 2020 pandemic focused on easing the burden of loneliness. 
Hello, my name is Holly. I am 41 years old and a single mom of a 10-year-old boy named Easton. His father passed away from cancer three years ago. I enjoy writing, I love history, and I like DIY home projects. I miss my grandma, and I know that if she were alive, she'd be so happy to receive a letter. It wouldn't matter if the writing was profound or merely about what I ate for dinner, it would make her smile. So, my friend, I'd like to write some letters to you. It will help me feel useful and less lonely, and I hope the letters help you and that they spark you to reminisce about your own life, love, and good times.
March 17th, 2021
Dear Friend,
Top o' the morning to you, my friend! Happy St. Patrick's Day! Are you Irish? Or at least Irish for the day? To me this is such a fun, good-spirited, all-inclusive holiday. All are welcome to sing and dance and be merry. Sadly, we are missing much of the celebrating and dancing again this year due to the lingering pandemic limitations. It's now been an entire year of closures and cancellations. Two years of St. Patrick's Day celebrations hindered. I don't know if that's how the luck of the Irish is supposed to work. However, we are persevering, my friend, and may we find ways to bring some good-spirited Irish cheer to our days no matter the circumstances.
My son, Easton, takes Irish dancing lessons and he loves it. Oh, friend, it's the cutest darn thing to see him dance a spritely jig! The Irish dancers work so hard all year for the multitude of St. Patrick's Day performances. It's their holiday to shine! Last year Easton and his dance academy were set to be on TV with the Milwaukee news and in the Milwaukee St. Patrick's Day parade. Both of those 2020 opportunities were cancelled. They were set to perform at numerous community events, pubs, and celebrations and those, too, were cancelled. We were so hopeful that by fall or for sure by this year we'd be back in full swing and reschedule all the shows. It's shocking that we are still not able to have a schedule of performances again this year. So, we are reminiscing. We are watching the videos from 2019 and hoping that as some point we can bustle around town again and Irish dance here, there, and everywhere.
At my son's school, the kids were allowed to have some fun and make their name into an Irish name if they wanted to. They could add an O' or a Mc to their last name. Which would you choose? Hmmm. What sounds better for me- O'Miller or McMiller? I do have Irish heritage, but that name was Sweeney.
When I was 18 years old, my parents took me on a celebratory trip to Ireland before I left for college. Have you ever been to the Emerald Isle? It was lovely! The castles were magnificent, people were welcoming, the glasses of orange juice were so tiny (compared to American Big Gulp standards), the history was plentiful, and the food was…well, the food was life-sustaining but…let me just say we walked REALLY far out of our way one day to gratefully eat at a Burger King! Slainte!
An Irish blessing for you, my friend: "A world of wishes at your command, God and His angels close at hand, friends and family their love impart, and Irish blessings in your heart."
With love,
Holly
If you'd like to write back to me, you are very welcome to.
I will get a PO Box soon and let you know what that is. For now, maybe someone could help you scan and email your letters back to me at Holly@StoriesofALifetimeLLC.com. Otherwise, maybe you'll find it helpful to just journal your thoughts and write them down without sending them. You do what is helpful to you, friend.
Conversation Starters:
Are you Irish? Or at least Irish for the day? Have you ever seen or done Irish dancing? For fun would you choose an O' or a Mc to add to your last name? Have you ever been to the Emerald Isle?