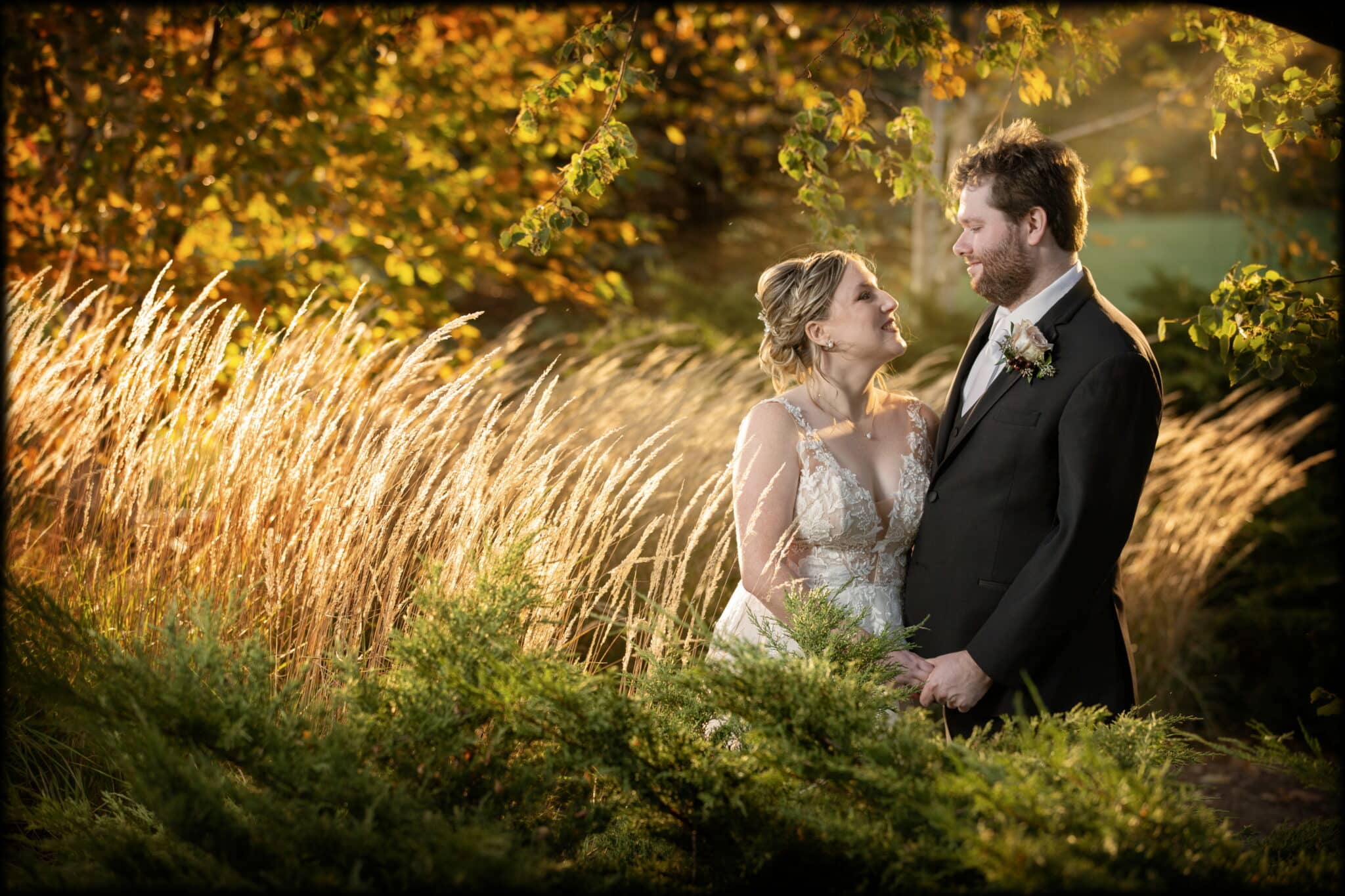 Ladies and gentlemen, I present to you with love: Mr. & Mrs. Jackimek!
What a joy it was to meet this fun and lovestruck couple! They easily capture the essence of love, and their happiness spreads to those around them. Tim and Taylor united in marriage and celebrated fabulously at Midlane Country Club on a fall day. It was a lovely honor to officiate their wedding ceremony.
Enjoy a few excerpts from this special ceremony below.
~~~
Tim and Taylor met during their College of Lake County orientation day on June 12th, 2013. Points to Tim for knowing that date! Taylor was wearing a Journey shirt, points to Taylor for that one, and Tim talked to her about her shirt and 80s rock. They walked outside together at the end of session, and Tim, failing to get Taylor's phone number, resorted to Facebook stalking her to find her again.
Their first outing together included a really bad movie and dinner at Chipotle, which Taylor disliked then but now loves. Their relationship bloomed, and 9 years flew by.
Tim and Taylor went on to attend Northern Illinois University where they got an apartment together. After graduation, they pursued their careers and continued growing as a couple.
During a trip to Florida, on November 2nd, 2020, again points to Tim for knowing the date, Tim proposed to Taylor on a gorgeous beach at sunset. Immediately after the proposal, Tim was on the phone to place an offer on a house in Pleasant Prairie, WI. Within hours, they were engaged and had a new home to live in through this next phase of their journey together. They both said it was a wild ride, but they did it all together, and that made it the absolute best.
This lovely couple has built a beautiful life together. What a blessing it was for their paths to cross all those years ago and for the first real relationship for each of them to become their one and only true love. This is truly God's doing, and we give Him thanks for His wonderous plan for you two.
Today, in the presence of these witnesses, Tim and Taylor are ready to be united as a family. Also sharing in the love today are those gone before us, especially the mother of the groom. May we know in our hearts that she is watching over this union with joy. With faith in each other and faith in God, may Tim and Taylor's marriage and family be blessed with eternal love and togetherness.
~~~
"If you live to be a hundred, I want to live to be a hundred minus one day so I never have to live without you."
Our beloved Winnie the Pooh spoke those emotion-filled words to his dear friend, Piglet. May you always remember the childlike simplicity of your relationship. Time and circumstances can clutter our perspectives. Help each other to focus on the good between you and to focus on what really matters as you live out your days together. Hold hands, stick together, share your stash of honey, and remember that no matter what challenges arise, you both truly want nothing else than to be together.
~~~
Tim and Taylor, your union today also unites your families. This wine ceremony is a beautiful representation of the joining of your lives. Each of you chose a unique color wine to represent your individuality. As the vintages get combined into this one vessel, your lives blend together as one family. Notes of each flavor of wine will always remain, just as your uniqueness will always remain. However, once these wines intermix, they will become inseparable- just like your union and devotion to each other. You are creating a beautiful, colorful, unique family.
~~~
Vows
(Tim) Taylor, the phrase I love you is said daily but without much thought. What does it actually mean?
To me, I 'love you' means that I will be there to take care of you no matter what, to provide comfort from the dark, to keep you warm through cold nights, to remember good times we have had, and to continually make new memories to cherish.
To me, the phrase 'I love you' means more with every passing day. It has been said by many that you should love your partner as much as the day you met them. I disagree. I believe you should love your partner more with each day. As you and I have grown and journeyed through life together to this point, I most certainly fall more in love with you every day.
Through all our years together and whatever life may bring us, I promise to not only tell you that I love you every day but to show you that I love you every day. Through my words and actions, I vow to be your dedicated and loyal husband for all time.
(Taylor) You are my entire world (or my whole milk as you would say). You have been my biggest cheerleader through every event we have been through together. We have waited forever for this moment and it's finally here- 9 years later!
We have had many ups and downs through the years, but we have always worked through it and came out on top. You never gave up on me and were always there when I needed you the most. At the end of the day, there is no other person I'd rather spend the rest of my life with than you. You've put up with me for this long- you can't back out now.
Starting today and forever, I promise that I will try my hardest and step away from being the stubborn person that I can be and accept that I may make mistakes and not always be right. I vow to trust and value your opinions as you are only trying to do what's best for us as you always have. I promise to comfort, celebrate and walk beside you with whatever life brings. I will always love you unconditionally and wholeheartedly even when you make your sarcastic comments. I promise to always continue to laugh with you with our little jokes and continue to enjoy building Legos with you until late at night watching ghost shows, sharing our hobbies together knowing we never did grow all the way up.
I cannot promise you an easy life or that I will not disappoint you. I cannot promise that I will be the perfect wife, but I can promise you that I will choose to love you every day. I will choose you every time. Until the very end, I am faithfully yours.
~~~
To Mr. and Mrs. Jackimek and a lifetime of love! Cheers!