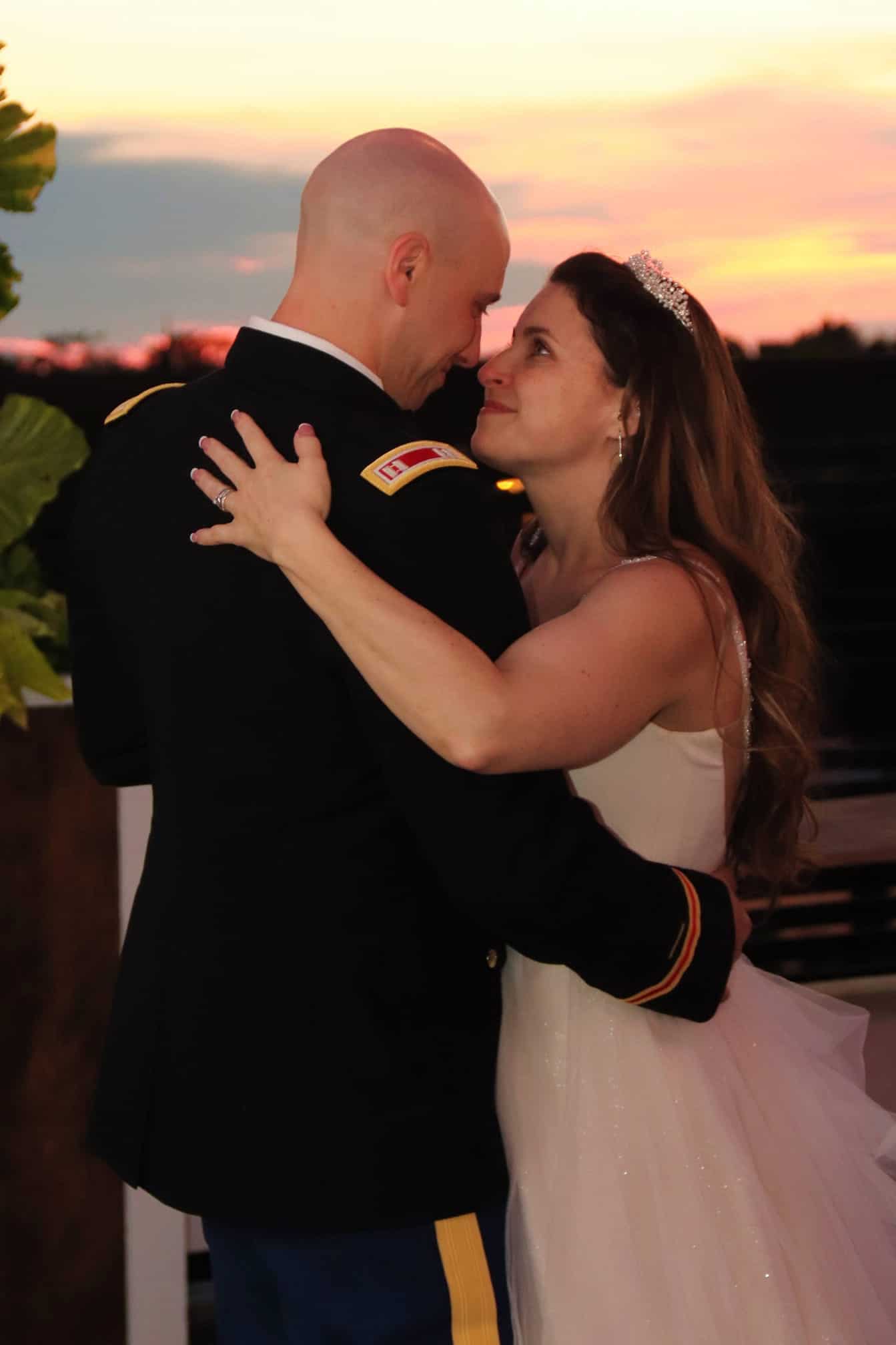 Ladies and gentlemen, I present to you for always: Mr. & Mrs. Christiansen!
With an unobstructed rooftop view of Lake Michigan and downtown Kenosha behind them, Matt and Maria celebrated their love and secured their union on a gorgeous July afternoon. An intimate gathering of family and friends enjoyed the military traditions sprinkled into the ceremony and the celebration that followed. It was especially heartwarming for me to witness one of my favorite teachers from my junior high school years walk his daughter, a fellow classmate of mine, down the aisle. The look of love and pride on his face was priceless! The joy was all mine to get to know Matt and Maria as a couple and to help them unite in marriage. It was a blessing to help them celebrate their love story.
Enjoy a few excerpts from this beautiful ceremony below.
~~~
Maria and I were classmates long ago, and her father, Doug, was one of my favorite teachers. It means so much to me to be a part of this special day for the Reindl family. On Mr. Reindl's science quizzes, he would give us extra points if we could spell his name correctly. R-E-I-n-d-l. Gotta get those extra points! Now, I need to learn how to spell Christiansen. i-A-n-s-E-n. Take notes. Doug will quiz us later. Extra dessert if you get it right!
I was thrilled when Maria asked me to help her marry Matt. She and I had reconnected a few years ago and life had taken us both for quite a spin since we were bright-eyed high school seniors. When I sat down with her and Matt to plan the wedding, I could instantly sense that Maria was at peace. It was clear that she found a true partner in life, a confidant, a support system, a happy place. I recall her posting something online about how the best of you can shine through when you're properly loved. That is so true. Matt and Maria definitely bring out the best of each other because they properly, genuinely, truly love each other.
Matt and Maria met through the chance of online dating, and they are both eternally grateful that they each swiped right. Maria thought he was funny and liked him right away. They enjoyed their first date at Ashling on July 3rd, 2019. Six short months into their relationship, however, Matt was deployed with the Army to Kuwait and Iraq from January 2020 until Thanksgiving. Matt and Maria refer to those long months as "old fashioned dating," and they talked their way through his deployment. It may have been old fashioned, but it definitely had a modern twist with video chat capabilities. Matt's deployment was challenging and the time difference was difficult, but Matt says getting to know Maria more and the conversations with her helped him survive.
With the grace of God, Matt returned home to the states and to Maria. After such a long time apart, the couple found themselves at the other extreme and ended up in pandemic quarantine together. With love and team work they survived that, too.
Then, on Christmas Eve, while the kids slept, Matt set out presents, and in the light of the tree, he proposed. What a joyful Christmas! Matt home from war, the family safe and healthy, and the love of Matt and Maria solidified. He topped even Santa. Matt gets extra points for that!
Today, along with their children, they are ready to be united as a family. With their faith in each other and their faith in God, may their marriage and family be blessed with eternal love and togetherness. May your joys be as bright as the morning, and your sorrows merely be shadows that fade in the sunlight of love.
~~~
The rite of marriage is an important ritual that binds two people together for the rest of their days. Today, you both are freely choosing to enter into this sacred union.
Matt and Maria, your union today also unites your families. This sand ceremony is a beautiful representation of the joining of your lives. Each of you chose a unique color sand to represent your individuality. As the grains of sand get combined into this one vessel, your lives blend together as one family. Each color will always be visible, just as your uniqueness will always remain. However, once these grains of sand intermix, they will become inseparable- just like your union and devotion to each other. You are creating a beautifully blended family. (Song- recording of Maria's mom singing Ave Maria will play during the Sand Ceremony)
~~~
Vows
(Matt) My Love Maria,
Today we say our vows and start our life together. As I tried to think of the perfect way to say how I felt about you, I decided to list everything I love about you (Matt unrolled a scroll!) as you can see there's a lot. You're beautiful inside and out, you're caring, sweet, trusting, faithful, honest, a bit chatty but I love that too, and you're everything I could dream of and more. You are my other half and my best friend. You are always my first phone call whenever something happens or I need to make a decision.
You have made Sierra's life and mine so much better. I know Sierra absolutely adores you and that is very important to me. She looks at you as though you are her mother. You are one of her closest confidants and mentors. You brought your daughters into my life. I care for all of them as if they were my own children. Lyla, your mom gives me a hard time and says I have a soft spot for you, and maybe I do, but I want to show you how a man should treat a woman. I want to help you with life's challenges and be the one you call if you need help. Lily, you're still my picking partner, let me know when you're ready to go again, I'm only a phone call away. Olivia, you are sweet and innocent and I know I tease you but that's because I love you too, I can't wait for after this to get my hugs goodnight. Sierra don't worry you'll always be my little girl. I want to be a role model for all of you to look at and I want you all to know I will always be there for all of you no matter where you are in your life.
Maria, I know it's not easy to love me, I can be stubborn and quiet, and concentrated on work a little too much, but you have found a way. I Love you and I always will. So those who know me know I like to keep the mood light. And as I stand here in front of you in my uniform I decided to do a little military tradition. I have a coin here, these are given out to military members that have gone above and beyond and a way of showing appreciation. Well this one is a little different. I am an engineer and that's shown by the castles on my uniform. On the front of the coin it says United States Army Engineer's Wife with a castle in the middle. Today you are becoming an Engineer's wife. My wife. And on the back it says Queen of the Castle. You will always be the queen of the castle. You are the foundation of our castle and family and I promise to love you and treat you like the queen that you are. No matter how far away I may be, you will always be my Queen. I love you.
(Maria) Well Handsome, we are here.
We made it to the beginning of our forever, together. I prayed to God for so long, for so many things. I never realized he would answer all my prayers at one time, with one amazing man. You are my best friend, my confidant, my lover, my inspiration, my strength and my weakness. But most importantly you are the first person I have always been able to be 100% myself with, and for you that has always been enough. I do not have to pretend with you, if I am falling apart, I can tell you. You are not always the most patient man, but with me you seem to have eternal patience. I know I can be an emotional person…but you just take it in stride. You have this way of making me feel better without saying a word. Your eyes lighten, your lips curl in a certain special smile that I only see you smile for me, and you look at me in a way that makes me feel so loved and beautiful and silly all at the same time.
I know we did not have the most conventional courtship. But I don't think our story could have gone any other way. I knew my life was about to change the first time we met. You were all blue eyes and smiles. Everything you said kept me laughing and waiting for more. And then at the end of a perfect first date, you fixed the leaky pipe in my basement. Our relationship moved quickly, you let me meet your cherished Sierra within the week, and I let you meet my girls. How quickly I fell in love with you I can not say for sure, but when I realized that I loved you I knew that I was in for the long haul. For 10 months I found strength I never knew I had. So much happened while you were away, and all the time we traversed it together. You found ways to support and take care of me and the girls from the other side of the world. The time apart was hard, and yet it allowed me to get to know you so much better, and to fall more in love with you.
I promise to love you, in the easy times and the hard times, in sickness and health. I promise to always support you and your dreams, wherever this may lead us. I promise to be honest, faithful, and true to you and to our marriage. I promise to trust you and to protect your heart and all that you love with everything I have. I promise to love and protect Sierra as my own. I promise to grow with you, to be your partner in everything, to communicate, and always be myself. I promise to be present, to always be there for you and for our family. I promise to always feed the fish and get the mail. Lastly, I promise you my hand, my heart, and my love from now until beyond the end of time.
~~~
May we express abundant thankfulness for this day, our friendships, our health, and our precious time. We thank God that Matt safely returned home from war, and we ask God to look over all the men and women who have served and are serving this country.
~~~
To Mr. and Mrs. Christiansen and a lifetime of love! Cheers!