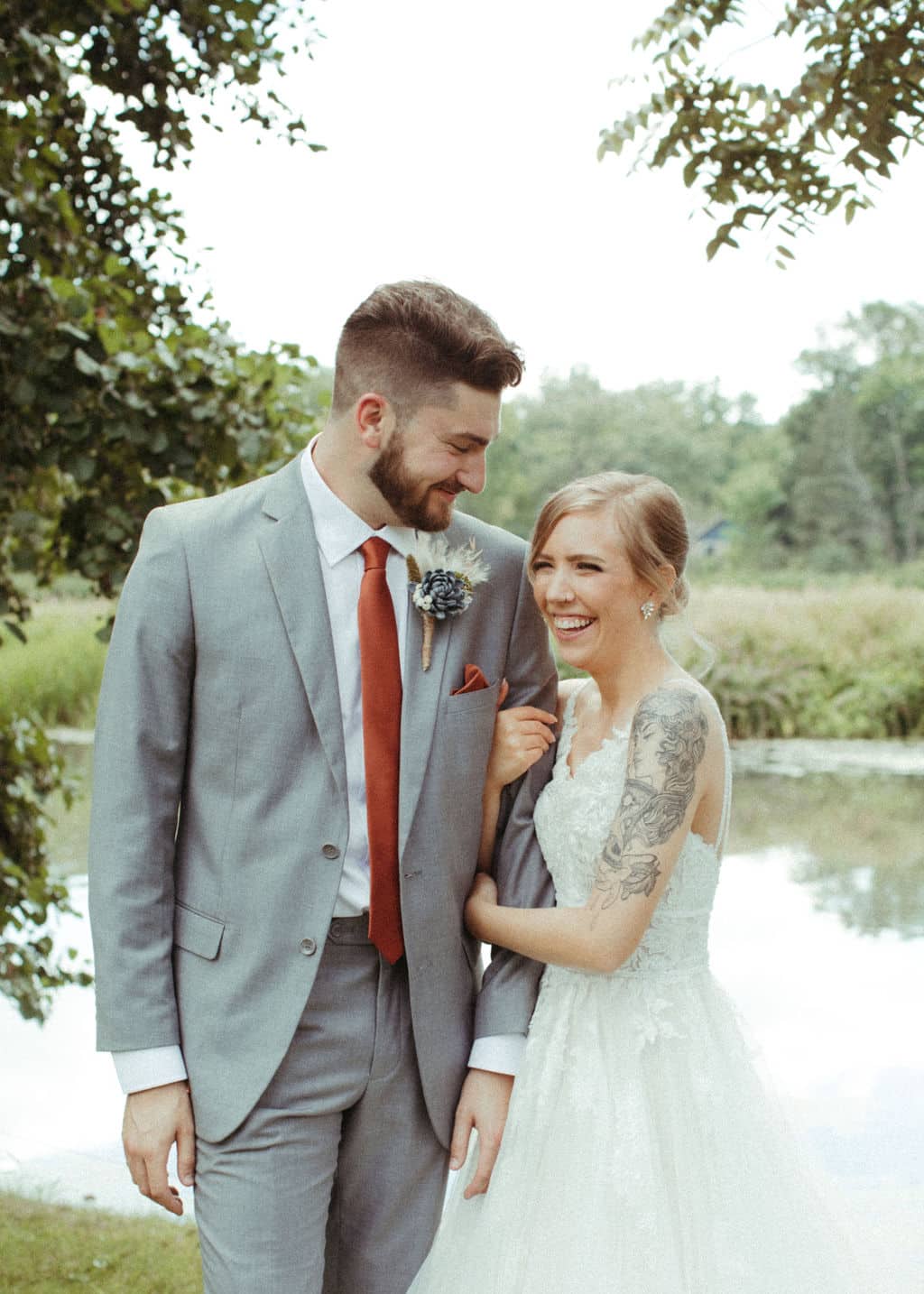 Ladies and gentlemen, I present to you with love: Mr. & Mrs. Birz!
On the shore of the serene White River, surrounded by beautiful Wisconsin prairie, Alec and Kayla united in marriage at The Landing 1841. Guests enjoyed the tranquil setting on this gorgeous summer day. This couple is so genuinely sweet and sincere in their love for each other. It is a joy to be around them. What a lovely honor it was to help these two beautiful souls unite in marriage.
Enjoy a few excerpts from this special ceremony below.
~~~
"We're all a little weird," writes Robert Fulghum in his book True Love. "And life is a little weird. And when we find someone whose weirdness is compatible with ours, we join up with them and fall into mutually satisfying weirdness- and call it love- true love."
Alec and Kayla instantly fell into that elusive mutually satisfying weirdness…I mean true love…right away. In 2018, they met in person for the first time half way between Kenosha and Chicago at a train station. Like a scene from a rom-com, they were surprised to learn that there are two train stations with the same name, and of course they were each at a different station. They eventually both ended up at the same station and their meet-cute became a cherished and joyful memory.
Kayla was very impressed with the true gentleman that Alec proved to be. Their second date included Alec's dog, Logan, and Kayla's dog, Roxy, and the four of them quickly became a happy family unit.
A year later, their Kenosha-Chicago semi-long-distance relationship transitioned and they moved into a home together in Kenosha. They agree that living together is a blast.
"I'm living a dream," said Kayla.
They balance each other out with perfect ease. Kayla said that Alec taught her what fun is while Alec said Kayla taught me to be serious. Their strengths and weaknesses even out, their values are identical, and their foundation is pure and strong.
"To love and be loved is to feel the sun from both sides," wrote David Viscott.
"Being deeply loved by someone gives you strength, while loving someone deeply gives you courage," is an applicable quote from Lao Tzu.
These sayings both capture what Alec and Kayla have formed between them- a natural, organic, fun, easy-going, sincere love. They refer to themselves as individuals on the same team. May you keep and honor that perspective always.
It was so fun getting to know this couple and hear their stories. They speak so highly of each other and of their time together. Alec said, "With Kayla I feel safe, at home, and fully accepted for all that I am." Their appreciation for each other is truly mutual.
In 2021, Alec planned a picture-perfect Kenosha lakefront proposal in a meaningful spot. With friends poised behind trees ready for the surprise, Alec secured another amazing memory for their relationship.
This couple personifies the term "soulmate," and this excerpt from Richard Bach's The Bridge Across Forever is very fitting. "A soulmate is someone who has locks that fit our keys, and keys to fit our locks. When we feel safe enough to open the locks, our truest selves step out and we can be completely and honestly who we are; we can be loved for who we are and not for who we're pretending to be. Each unveils the best part of the other. No matter what else goes wrong around us, with that one person we're safe in our own paradise. Our soulmate is someone who shares our deepest longings, our sense of direction. When we're two balloons, and together our direction is up, chances are we've found the right person. Our soulmate is the one who makes life come to life."
~~~
Vows
(Alec) Hey Babe, I'm not sure if this is what you envisioned when you agreed to get dinner with me almost 4 years ago. I'd bet a lot of money that this wasn't what you were expecting when we realized we were at two different train stations delaying our first date. I doubt you saw this coming when, for our second date, I asked if I could bring Logan to Chicago for the weekend even though you had just brought Roxy into your life a few weeks before. Our relationship started, dare I say, unconventionally. But I can also say that after being with you for about two months, I knew that I loved you and that I was never looking back.
As our relationship grew, those feelings grew deeper and deeper. Our worlds combined pretty quickly, from being able to meet your brother Thor, to you experiencing parts of my volleyball life for the first time. By the time we were getting ready to move in together, it wasn't a question of whether I wanted to marry you. The question became, "what would my life be like without you?" I'm so thankful I no longer have to ask that question. I not only would be a literal mess without you, I know that my life wouldn't be what I want or need without you by my side. You are my home, my safe space, my best friend, and above all else, my person.
I've never met anyone life you, which is why I cherish every second I have with you. There isn't a day that goes by that I am not grateful for you and the life we've started building together. I love the way you make yourself as small as possible when we cuddle, the way you look at me when you know I'm right but need to double check (just to be safe), and the way you bring me down to earth when I struggle to say how I feel. But the main thing I appreciate the most about you is the pure joy and love I feel every day with you. No one makes me laugh harder, allows me to open up easier, or loves me as deeply as you do.
You've shown me a world where I am truly able to be myself, and that's an incredible world to live in. But that world is only complete with you standing next to me because I am not who I am without you.
I vow to put us and our family first even when it's difficult. I vow to continue our communication as it is a pillar of our life together. I vow to accept you for all that you are, even when you're struggling to see the good. I vow to be aware of you and your wants and needs. I vow to never stop letting our voices and comedy bits fly, especially when you give me the look that means, "that bit definitely should've stopped sooner." I vow to always put a hand in your jean pocket when we walk through Chicago and all the neighborhoods we love to visit so much.
Above all though, I vow to always love you unconditionally, through the best and worst time. I will forever be your biggest fan, your best friend, and most importantly, your mans. I love you.
(Kayla) Alec. My first boyfriend and my last. My love and the man of my dreams. You are my human, and soon you will be my husband.
I never expected to experience a love like this, truly unconditional and always growing. I'll never forget the giddiness I felt after our first date and being at a loss for words from your kindness and the chemistry we both felt. Mostly because you drove back to drop off my leftovers- that's when I knew you were special.
You are such an example for me each day through the actions you take, patience you have, and how present you are naturally as a human. How deeply you care for me and support me, even in the tiniest of moments, does not go unnoticed. I've never felt safer or more at home than with you by my side. Here are some things I love about you and us:
I love that we have the best times cooking, watching shows, spending time in nature, and doing bits- you with a cigar in hand and me with wine. I love that you go into another room to sharpen the knives because you know I hate the sound. I love that at any party we go to, I find you and you were already looking at me- smirking and raising those eyebrows I love. I love that one hug from you can soften any tension I feel. I love that you bring out the cheesiest, silliest, most childlike traits in me- because that's my favorite self.
I love that you let me do performances every night in the living room, and that you've even joined in on some of my jingles. I love our mandatory morning cuddles. I love that you were born to be a father, and that you've said you'll change all the diapers. I will not forget that. I love that you go the extra mile with my anxiety and love me more because of it. I love that we take care of each other, and that we take turns leaning on one another. I love witnessing the joy you feel with your students and players. I love that my spiciness offsets your calmness. And I love that our values have always been the same and that we've developed them further in discussing what we want our family and future to look like.
Like I said in the early months, "We have something special here." A great love. I promise to always be your teammate and someone you can count on through the peaks and valleys, to respect you as a person and as a partner, to never stop laughing, and to always choose silliness.
I promise to always hold a safe space for you the way you do for me, to comfort you when you need it, to appreciate you and all that you do, to have the tough conversations and always check in, and I promise to always give you my fries that are too crispy.
Choosing you every day is so damn easy and I cannot wait to be your wife. I love you, and I keep falling in love with you more every day and every moment. Now… LET'S PARTY!
~~~
Alec and Kayla have been looking forward to including the Jewish marriage tradition of breaking the glass in their ceremony today. Historically, the physical breaking of the glass is done by the man; but Alec said, "That's not how Kayla and I do things." So, together, Alec and Kayla, will perform this time-honored ritual.
The act of breaking the glass holds multiple meanings. This glass is a reminder that your marriage is fragile and needs to be treated with the utmost care, in sickness and in health.
Breaking the glass reflects the breaking down of any and all barriers between you as you embrace a fresh new life together.
Alec and Kayla, on the count of 3 you can break the glass together and then, Alec, you may kiss your bride! Friends and family, you're involved in this, too, and I invite you all to help me count down and then cheer "Mazel Tov!," which means "Congratulations and good luck."
~~~
To Mr. and Mrs. Birz and a lifetime of love! Cheers!