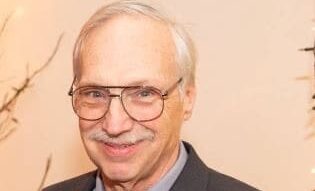 May 5th, 1948 – December 12th, 2020
*Author's Note: The following are excerpts from the Celebration of Life service for William Frank "Bill" Czosek for you to read, reflect, and pay your respects privately. It was an honor for me to learn about Bill and help capture his story for his family and loved ones. I was able to assist the family with creating a treasured photo slideshow for you to watch and to reminisce about the many good times with Bill. 
William F. Czosek Tribute Slideshow 
Mark Twain said, "The mind has a dim sense of vast loss- that is all. It will take mind and memory months and possibly years to gather the details and thus learn and know the whole extent of the loss."
It has been 9 months, and the loss of Bill may still shock you, take your breath away or make you stop in your tracks. His loss will always be felt because missing someone you love lasts for always.
It is only natural that we experience great sadness today and all the days since Bill's passing, because in a practical sense, Bill is no longer a physical presence in our lives. We have a powerful sense of loss. Where we are experiencing his loss- a missing piece- Bill is experiencing completeness- wholeness. He is home now in the loving embrace of our Lord. His journey is complete. He is reunited in spirit with his parents, Ernst and Ann, and other loved ones. He is surrounded by love.
He would not want your hearts to be troubled. May you find comfort in sweet memories, may you find peace in the ways you find him to still be a part of your present, and may you find hope in being reunited with him some day.
 ~~~
Bill was born on May 5th, 1948. The youngest of three children, Bill had an older sister, Kathy, and an older brother, Richard. The Czosek family lived in the Chicago area, and the kids attended St. Ferdinand Grammar School and then St. Patrick's High School. Kathy was the oldest, and she walked the boys the one-mile to school as their dad used the family's one car to get to work. Kathy looked out for her younger brothers; and, as Richard recalls it, Richard was the hard one to take care of and Bill was the easy one. Richard boasts that Bill was the smartest of the three.
Bill always spoke with a big smile and was a happy person. He was quiet, cautious, and calculated. He was curious and, while quite friendly, he was most content being in his own world. From a young age he was immensely interested in how things worked and how things were built. Brother Richard said, "I wanted to play sports. Bill wanted to build things." Richard recalls one of Bill's engineering adventures in learning about electricity. Bill asked Richard to touch one of the two wires he was working on. After touching it, Richard inquired as to why Bill needed him to do that. Bill explained that he wanted to see which wire was live- a task you only ask a brother to do!
Bill followed his childhood passion and enthusiastically earned a B.S. in Engineering and a Master's Degree in Electrical Engineering from Marquette University.
He met his future wife, Linda, at Vanguard- a boat building company in Pewaukee. Little did they know their 1977 first date would prove to be symbolic and iconic. Bill took Linda to the theater to see the first Star Wars movie- A New Hope. Bill did not get popcorn or a soda for Linda, but there was still hope for this couple. They became part of a generation that saw the Star Wars saga from its humble beginning. They also began their own adventure based on hope, love, and a lot less dark side. Together their force was strong, and the couple wed in Hartland, WI on August 11th, 1979. The bride recalls a delicious buffet at $3.25 per plate and a fun 3-piece band for $160.
Bill and Linda enjoyed their first home in Waukesha, and welcomed daughter Amanda into their world in 1980 and son Andrew in 1982.
Bill was truly a family-oriented man. His brother Richard fondly remembers family get-togethers as adults at their parent's house. Their mom would cook lots of food and family filled the home in Norridge, IL. Richard said, "Bill was a loving father, and that could be seen at family gatherings."
Bill was a good influence on his children with his organizational skills, thoughtfulness, and try-try-try nature. The kids admired how smart he was with math and the interest he had in video games. Amanda and Andrew fondly recall many family bonding hours playing Tetris, Indiana Jones, and King's Quest. The three of them would be sitting around figuring out the next step, only they had to be quiet because mom was sleeping and they were all supposed to be in bed. Despite that detail, I think this still shows how good of an influence he was. He was present for his family and actively engaged in games his children were interested in. What beautiful and special times those were.
Bill was dedicated to his family and would do anything for them. He was a gentle soul, a great dad, a wonderful husband, a jack of all trades. He enjoyed being a Cub Scout den leader for Andrew and helped him earn his Eagle rank. Andrew directly credits his father for the work he does today. Amanda is grateful that her dad's handiness was handed down to her.
When the kids were young, the family moved to Florida for a brief two and a half years for Bill's job. After moving back to Milwaukee, Bill began working with Professional Automated Software (PAS). Remember, Bill attended college before computer science even existed. This cutting-edge field was an exciting new frontier and Bill's analytical skills and motivation were perfect for the adventure. For over 25 years he enjoyed his career as a Software Engineer. PAS served many big clients such as Blockbuster, MasterLock, and Sony. Amanda and Andrew thought Sony was very exciting because dad would bring home amazing new products like CDs!
An avid Packer fan, anytime the Pack played Bill was there to either cheer them on to victory or tell them what they were doing wrong. He was not talkative by nature unless the conversation was about the Packers or computers. He loved the Beatles and Simon and Garfunkle. He loved camping and being outdoors. There are so many great memories of excursions to state parks throughout Wisconsin.
Bill was self-motivated and very much a self-taught man. He was brave. While not afraid to try and fail, he was his own worst critic. He'd try and try again until the project was meticulously complete, and that goes beyond dedication- that is love. He loved woodworking and became everybody's handyman. His tool chest was well-organized and meticulously labeled. He was always doing something around the house and for his family. He'd tell Linda she had too many plants, but he'd help in any way he could.
He enjoyed passing new skills on to his family members. Bill was overjoyed with Amanda's engagement to Ryan. Bill took Ryan under his wing and showed him how to cut tile and how to do other home improvement work.
He was the rock his family could depend on. He worried about Linda and about everyone else. He loved his dogs, affectionately known as "the girls," Abby and Sophie. Family time was the most important time to him, and he'd do anything for his family. Bill and Linda were married and were best friends for 41 years. Bill and Linda worked on stain glass projects together, which helped her overcome her fears of doing this. They saw many adventures through those four decades, but Bill was never seen without a moustache.
His family bursts with pride when they tell you Bill built his own house. Bill built a home on eight acres in Lyndon Station in 2013. The homestead was prepped for his 2014 retirement, and Bill and Linda celebrated by moving in to their new home. What a milestone achievement and lifetime accomplishment for both Linda and Bill. The couple enjoyed their home up north for many years until moving to Menomonee Falls in September 2020 to be closer to the kids.
What a blessing that move turned out to be. Bill took care of everything to get Linda settled in a wonderful neighborhood near family before his time was brought to a sudden close.
There are countless stories to retell. Share the memories. Share the love. Share the laughter and tears with each other today and in the days and years to come. Linda, Amanda, and Andrew would love to hear your stories of Bill so that his legacy may endure.
The family told me something that really stood out to me. They said Bill loved elephants. Elephants are phenomenal creatures. There's a quote about elephants that seems a good fit for the loss of Bill.
"When there's an elephant in the room, it's for good luck and protection, especially in challenging times, they're known to break through obstacles, and crush potential problems headed our way."
Bill's passing is the elephant in the room…but maybe his spirit surrounds us for good luck and protection, especially in challenging times. Maybe we can feel the energy Bill had to learn new skills and try and try again. Maybe we can use that energy and inspiration to break through obstacles and crush potential problems. Maybe the elephant in the room can bring you some comfort and peace.
~~~
The family also gives thanks to the nurses and doctors at Froedtert Menomonee Falls for the care and comfort they gave to Bill.
~~~
Bill will be forever missed by his wife Linda, Amanda and Ryan, Andrew and Aileen, his dogs Abby and Sophie, Kathy, Richard and Sandy, and many other dear family members and friends. Bill, may you rest in eternal peace knowing you are dearly loved.
My sincere condolences and love, Holly