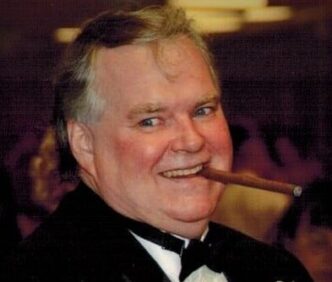 March 7th, 1951 – August 23rd, 2021
*Author's Note: The following are excerpts from the Celebration of Life service for William M. Dedynski for you to read, reflect, and pay your respects privately. It was an honor for me to learn about Bill and help capture his story. As "Free Bird" played in the background, the service closed with guests coming up to toast to Bill. It was moving to see the smiles, tears, and laughter as friends and family paid homage to all the very good times with their beloved "Big Bill."
While no length of time ever seems long enough to be with those we love, it is a blessing to have had Bill present on this earth for 7 decades. His time here and his time spent with each of you was a precious gift. When God called Bill home at 70 years of age, Bill was ready to follow. For us left behind, it does seem that all that time went way too quickly.
Feelings of loss and sadness are natural as Bill is no longer a physical presence in our lives. However, where we may be feeling a missing piece in our lives for Bill, he is now experiencing completeness- wholeness. He is home now in the loving embrace of our Lord in heaven. His journey is complete. He is reunited with his mom, Ruth, his in-laws, Carol and Dick, and his beloved fur babies, Bucky and Milo. He is surrounded by love. He would not want your hearts to be troubled. May you find comfort in sweet memories, may you find peace in the ways you find him to still be a part of your present, and may you find hope in being reunited with him some day.
~~~
Whether you knew Bill as brother, husband, dad, "Grumpy Grampy" or "Big Bill," you probably knew four main things about him. He loved his dogs. He loved his Harley. He excelled at making sausage. And his house was always open.
Brother to Nancy and Barbara, Bill grew up loving football. He played high school football at Bay View and college ball at UW-River Falls. He was a lifelong Wisconsin Badgers football fan.
The day after Thanksgiving in 1975, Bill was scheduled to work at Jewel. He met a fellow co-worker that day named Robin. It ended up being a great day to work. The two hit it off and were married April 3rd, 1976 and recently celebrated 45 years together.
Bill and Robin welcomed two children into the world, William and Natasha. William's wife, Kim, became Bill's favorite daughter-in-law, and Natasha's husband, Nick, became Bill's favorite son-in-law. The family expanded with three grandchildren, Izaak, Nora, and Nessa.
Bill's passion for sausage making led to him having his own shop, Southside Sausage. He adored his work. He spent countless dedicated hours to perfecting his craft, and he recruited his children to help him, too. His work was recognized with numerous awards, and Bill enjoyed this important part of his life.
Bill was a longtime HOG Milwaukee Chapter Road Captain. He loved his Harley and all the road trips and local charity rides. Those provided him with many good times and memories he cherished.
He adored his dogs. Supporting animal rescue was important to Bill. His doggo, Murphy, was very loved by him. All of Bill's fur babies were incredibly spoiled with love, attention, and many treats.
Bill's wife and children explained that Bill was kind and caring in his own way. Beyond the love for dogs and Harleys and in addition to being renowned for his craft, Bill created an atmosphere at home where everyone was welcome. From pool parties to bon fires it was a fun place to be, and Bill always cooked enough food for everyone. His son said, "Our house was always the house our friends wanted to come to."
Over the years, Bill let friends of his children live there, too. They were always welcome to stay and be safe and cared for. As his son's friends grew up and went into trade work, the Dedynski home became the practice house. Bill let the kids practice their new skills and he got a new roof and many home updates in the process.
Bill gladly played with daughter Natasha and her friends. During the years when "Pretty Pretty Princess" was the game of choice, Natasha would make sure her dad always won. The winner would have to wear the crown and the jewels, which Bill wore like a champ.
~~~
Bill was loved and will be missed by many. May we especially keep in our hearts and prayers his wife, Robin, who also took on the challenging role of caregiver. Robin, may you know in your heart that Bill was deeply grateful for your love and care. A special note to Nancy and her husband, Marv. May you both know how grateful Bill was for the roles you played in his life.
"What we do for ourselves dies with us. What we do for others remains immortal." – Albert Pike
From riding with you to feeding you to welcoming you into his home, there is something that Bill did in your life that will remain with you. Cherish those good memories, and in turn do something good for others.
My sincere condolences and love, Holly