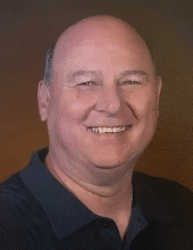 September 28th, 1939 – October 12th, 2023
*Author's Note: The following are excerpts from the Celebration of Life service for Robert Joseph "Bob" Lessard for you to read, reflect, and pay your respects privately. It was an honor for me to learn about Bob and help capture his story for his dear family and friends. 
~~~
Where we are experiencing his loss- a missing piece- Bob is experiencing completeness- wholeness. He is home now in the loving embrace of our Lord in heaven. His journey is complete. He is reunited with his parents Adolph and Gladys, his sister Nancy, and his daughter Kristin. He is surrounded by love.
~~~
I had the honor to speak with some of Bob's loved ones this week to learn about him. What a wonderful man! Born in Eau Claire, Wisconsin in 1939, he enjoyed growing up there and had two sisters. After high school, Bob and several others flocked to Kenosha to work at American Motors. Bob worked at AMC/Chrysler for 42 years as an inspector and was also the Chief Steward for the UAW Local 72 Union.
During his first years in Kenosha, Bob would return to Eau Claire on the weekends to visit family and friends. On a weekend visit, he met a beautiful young lady named Yvonne Bowler. It turns out that he and Yvonne attended the same high school only she was 3 years younger, and their paths hadn't crossed before.
Bob and Yvonne fell in love and were married in Eau Claire March 3rd, 1962. The couple settled in Kenosha and embarked on the adventures of marriage and parenthood together. Bob and Yvonne welcomed three children into the world, Vicki, Greg, and Kristin. Bob was an outstanding husband and father, and he made his family his whole life. Daughter Vicki said, "My dad had no other purpose in life than caring for his wife. If mom needed something, he would go get it. If the first five stores didn't have it, he'd keep looking. He was very giving. He was always helping. Anytime we needed anything, my dad was always there. We knew we were loved."
The important things in love and life are rarely the grand gestures, they are the culmination of everyday, mundane happenings. Family dinners, phone calls, good mornings, and good nights. And all of a sudden 61 years of a beautiful, loving marriage flew by. Bob's wife, Yvonne, said, "It is so important to be grateful for the time we had."
Yvonne also shared with me that their life was good and peaceful, and they liked their routines. With laughter she recalled one random situation that Bob found himself in. Yvonne had to attend a convention in San Diego for her job, and Bob came with. While Yvonne worked all day, Bob would relax and enjoy the area. Yvonne would ask him, "What'd you do today?" The response would be, "Not much. Had a good day." Then one day Yvonne asked, "What'd you do today?" and Bob told her he enjoyed a visit with a world-renowned author, speaker, and long-distance swimmer, Diana Nyad- most known for swimming around the island of Manhattan and swimming from the Bahamas to Florida. So, while Yvonne sat in meetings all day, Bob mingled with a celebrity! Yvonne very much appreciated that Bob would accompany her on her work trips, and they loved their time together.
Bob and Yvonne loved raising their family and immensely enjoyed hosting their grandson, Kyle, every summer. Kyle loved his grandpa and grandma, and the special memories will be forever cherished. Bob set a beautiful example for all of us, and there are wonderful things you can do for your loved ones to help Bob's love live on.
Bob was strong and steadfast and battled cancer four times. Even the strongest among us need to rest. God called him home, and it was time for Bob to finally rest safely with our Lord in heaven.
~~~
May you be ever grateful for the gift of Bob's presence in your life, and may you learn from his words and actions and how he chose to spend his precious time. May you embrace and share with others the qualities of Bob that you love and miss so much so that his legacy may live on. Do a puzzle. Go bowling. Cheer on Wisconsin sports teams. Look to the good times. Learn the lessons. Choose happiness. Live on with the faith that in some way he will always be with you, and everything is going to be okay.
~~~
Bob will be forever missed by his dear wife Yvonne, his children Vicki and Greg, his sister Betty, his grandchildren Kyle, Jennifer, and Chassadie, other dear family members including Sue and Cathy, and many other loved ones and dear friends.
Bob, may you rest in eternal peace knowing you are dearly loved.
My sincere condolences and love, Holly