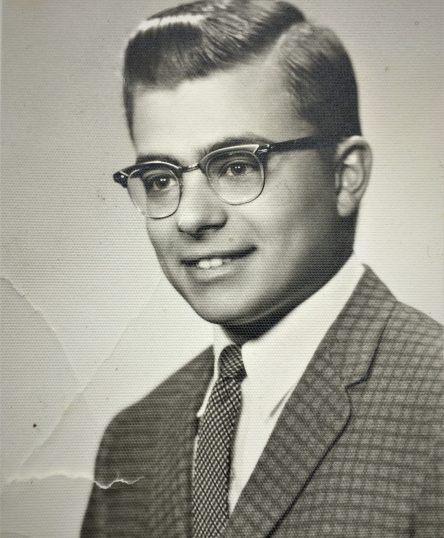 June 21st, 1944 – July 21st, 2020
*Author's Note: With the service having taken place during the pandemic restrictions of Summer 2020, many friends and loved ones were not able to attend. The following are excerpts from the Celebration of Life service for John K. Schloesser for you to read, reflect, and pay your respects privately. 
When God called John home at 76 years of age, John was ready to follow. While no length of time ever seems long enough, it is an absolute blessing to have had this man present on this earth for over 7 decades. His time here and his time spent with each of you was a precious gift. Right now it does seem that time went way too fast. May you be ever grateful for God's gift of John in your life and may you learn from his words and actions and how he chose to spend his precious time.
John is missed by many aunts, uncles, cousins, and friends especially his very dear friend Vincent and his buddy- his cat Biscuit. While we feel a missing piece in our lives for John, he however, is now experiencing completeness- wholeness. He is home now in the loving embrace of our Lord in heaven. His journey is complete. He is reunited with his mother Evelyn, his father John, his step-father Harold, and his dear pet parrot named Hercules. He loved his family and he loved his bird and he is now surrounded by love. He would not want your hearts to be troubled. May you find comfort in sweet memories, may you find peace in the ways you find him to still be a part of your present, and may you find hope in being reunited with him some day in the kingdom of God.
Father in heaven, we thank you for sharing your son, John, with us here on this earth. There is much to celebrate- his life well-lived and his birth into eternal life.
~~~
I was able to spend time with John's friend Vincent and listen to him describe his friend and share some memories. It was clear that John would not want us to fuss over him too much. It was also clear that this man was a good man who lived a simple Wisconsin-style life and that we need to fuss if even a little bit.
John was a simple man. He bought his coffee at McDonald's. Going out to eat meant a fish fry. He enjoyed getting his money's worth out of a buffet. He served his country. He studied and graduated with honors. He worked hard. He went to church. He thought of his friend's before himself. He was a good man. We need people like John in our lives. To ensure his legacy lives on, you can embrace some of his qualities that you admire. Never underestimate the power of simplicity. John knew we aren't truly needing to impress anyone on this earth, we are but preparing for what is beyond.
John served in the U.S. Navy from 1962-1965. One definition of a Veteran, whether active duty, discharged, retired or reserve, is- someone who, at one point in his life, wrote a blank check made payable to "The United States of America" for an amount of "up to, and including his/her life." That is what John did. That is honor. That is a soldier.
"What we do for ourselves dies with us. What we do for others remains immortal." – Albert Pike
John's service to our country will remain immortal. We thank John for his service and pay tribute to him now with the Military Honors that he earned.
~~~
John will be laid to rest next to his mother at Hillside Cemetery in Genoa City.
My sincere condolences and love, Holly