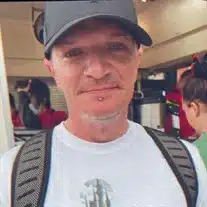 August 17th, 1981 – October 3rd, 2023
*Author's Note: The following are excerpts from the Celebration of Life service for John Lawrence Blankman for you to read, reflect, and pay your respects privately. It was an honor for me to learn about John and help capture his story for his dear family and friends. 
~~~
John would not want your hearts to be troubled. May you find comfort in sweet memories, may you find peace in the ways you find John to still be a part of your present, and may you find hope in being reunited with him again someday in a world free from pain.
He is home now in the loving embrace of our Lord in heaven. His journey is complete. He is reunited with his father, Jeff. He is surrounded by love.
~~~
Poem When I'm Gone by Anonymous
When I come to the end of my journey
And I travel my last weary mile,
Just forget if you can, that I ever frowned
And remember only the smile.
Forget unkind words I have spoken;
Remember some good I have done,
Forget that I ever had a heartache
And remember I've had loads of fun.
Forget that I have stumbled and blundered
And sometimes fell by the way.
Remember I have fought some hard battles and won,
At the close of the day,
Then forget to grieve for my going,
I would not have you sad for a day,
But in summer just gather some flowers
And remember the place where I lay
And come in the evening
When the sun paints the sky in the west,
Stand for a few moments beside me
And remember only my best.
~~~
John grew up in Racine and Florida and loved the lake house in Eagle, Wisconsin. He enjoyed spending time with his brother and his friends. John loved his mom. He had a very big heart. He cherished his four daughters. His favorite times were riding pedal bikes with his children and going fishing and swimming in the lake. He really did love his family.
John appreciated several important artists that influenced his passion for music. He enjoyed the underground Midwest Techno scene. He was a skilled DJ and created techno music. He could even be on 4 turntables while mixing 2 records at once. It was really something!
John loved bikes and enjoyed riding his crotch rocket. He won a trophy for BMX racing at the Grand Nationals in Oklahoma City. John suffered a severe bike accident in 2021, but he fought his way through and even learned to walk again. His daughter Hailey said that he definitely had 9 lives when it came to biking.
~~~
John will be forever missed by his mother Linda, Stepdad Gary, his daughters Hailey, Ariel, Jasmine, and Giselle, his girlfriend Noel, his brother Matthew, his niece Marlayna, Hailey's mom Sarah, and many other dear family members and friends.
John, may you rest in eternal peace knowing you are dearly loved.
My sincere condolences and love, Holly