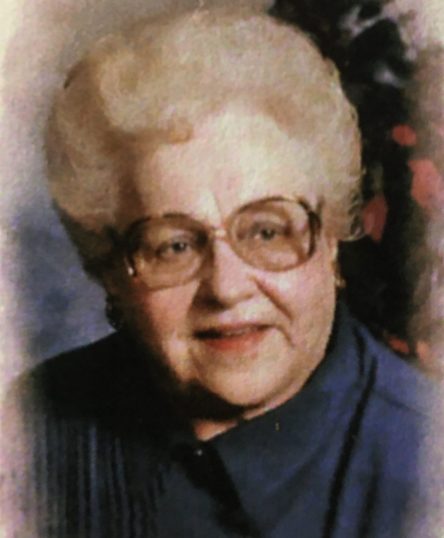 March 20th, 1925 – December 7th, 2004
*Author's Note: This is the first eulogy I ever wrote. I was 24 years old, and my grandma (my favorite person, my biggest fan, my everything) passed away unexpectedly eleven days before my wedding. I had no experience in writing life tributes at the time, but I knew in my soul that this responsibility was mine. I knew that I was the one who was going to pay tribute to my grandma. I told my family that I would be doing this, and everyone seemed relieved that I would handle it and they trusted me. It was a heavy responsibility. It was hard. It was scary. It's what I absolutely had to do. It was meant to be. I felt so compelled to get those words onto paper and share them with all who loved her. This woman had given me so much. The least I could do would be to preserve her memory on a few pieces of paper and celebrate her story with our family and friends.
The response was overall gratitude. Family and friends were grateful to hear the memories, they were grateful to have laughed and cried, and most importantly, they were grateful that they could hear the story and have the experience that they each needed to take that first step on their own grief journey. I was unaware that this event turned the road I was on by a degree. It wasn't noticeable at first, but as I ventured farther down my road of life I realized how far this moment had taken me from where I thought I was going and what I thought I was supposed to be doing to where I was meant to be and to exactly what I was meant to be doing. With a smile on my face and tears in my eyes, I now think "Of course!" Of course it would be my grandma doing one last thing for me- her Hollyberry. Thank you, Grandma, for all the gifts you have so lovingly given me, especially this precious gift of a purpose in my life.
Helen Magdalena Desris, Mrs. Smith, Mom, Grandma, Gigi…no matter how you knew her, you were a better person for being a part of her life. There will never be the right words or enough words, but here are a few memories and thoughts to help us celebrate her life.
Grandma grew up with her brothers, whom she loved dearly. Her favorite memories were when she walked out of school one day and there was her big brother John in his Coast Guard uniform with a brand-new bike for her and in high school when Tony would turn the clocks back so she could stay out later. She also talked about how she painted her nails during study hall and one day painted the nails of a boy sitting behind her. Grandma would laugh because the boy thought he could just wipe the polish off. Grandma would also say with a smile what one boy told her as she walked up the stairs at Bradford High School, "Helen, you've got everything but legs!"
How true that was. At age 26, she had one leg amputated just below the knee, and her oldest daughter, Kathy, (age 4) changed her bandages, and a nurse was born.
Grandma loved purses and shoes. When she lost her leg she gave over 20 pairs of shoes to her neighbor. She'd tell me with a sly smile that she made $20 a week at American Motors and she would buy $40 shoes at Barden's. She used to sit at her desk at Snap-On with her shoes off, and when her boss called her, she'd say, "Just a minute," and quickly put her shoes back on.
She raised 3 beautiful and amazing daughters: Patricia Claire, the youngest and an incredible mother of one even more incredible boy, Stephen; Linda Louise, a social worker and proud mother of 3 outstanding kids, Andrea, Frankie, and Michael; and her oldest, Kathleen Ann, a nurse and beautiful mother of three girls, Megan, Janel, and Holly.
Grandma loved her sons-in-law Sam, Frank, and Arnie for all they did. They took care of her daughters and gave her daughters beautiful families. Each son-in-law was special to her for making each of her daughters happy.
Grandma was so proud of her family. Everything she was was family. Everything she ever did was for her family. Her children were the lights of her life. They provided her with love and joy and grandchildren- her most prized possessions.
She was so proud to be a grandma. A long time ago, when I went to school here at St. Mark's, she came to Grandparents' Day. She told Miss Boss, the former principal here, that, "I used to say I'd walk a mile for a Camel, but now I'd walk a mile for my grandkids."
Everybody loved her. No matter where you went there was always someone who wanted to know how Mrs. Smith was doing. She took care of her cousins, Ann Johnston and Margaret Rudwell; and, even as Margaret passed, she was still praising her first cousin, Helen.
Grandma's life was very hard. While happiness with her children, grandchildren, and great grandchildren came easily, walking, breathing, and remembering all of our names did not. She felt pain, she suffered, she complained at times, but she had an inner strength and resilience foreign to the rest of us. Even her team of doctors boiled it down to…Helen, you just have 9 lives! In the movie Gone With the Wind, Mammy makes a comment about Scarlet O'Hara that always reminded me of Grandma. Mammy said, "What that child has to stand, the good Lord gave her strength to stand." We'll never know why she had to go through all that she did, but we know that she always made it because she had faith in God.
After she passed in the hospital, my mom said that Grandma looked more beautiful than ever. She looked happy and peaceful and her wrinkles seemed to have disappeared. She finally got to leave her pain and reach a place where she again has 2 legs and can polka her heart out. And we can be assured, by the peaceful look on her face, that Uncle Tony was there to meet her saying, "Hey, Hel! What took you so long?" She's with her mother and grandmother, Heidi, and Annie Kaminski. She's with her family in heaven just as much as she's still here with us today. She's sitting next to you in the pew jingling her keys or getting out a piece of candy.
Grandma taught me about regret. She told me many times about the black jacket that her mom made for her that she hated so much. She said she made her mom feel so bad. And she would cry as she thought about all the missed opportunities she had to apologize. But she'd go to her mother's grave and sit and talk to her as I planted flowers. She'd say, "Mom, this is Holly, Kathy's little one. You'd like her."
So, we can't dwell on what we said or didn't say. We just need to take advantage of the days and minutes that we have. Spend extra time with your kids and create memories. Don't wait. I have a Christmas card for her that I thought I shouldn't mail because I was going to see her soon. It says, "from the both of us," but let's change it to "from all of us." "All of us think you're special. Thoughts of special people just naturally include our warm appreciation and loving gratitude. A Christmas thanks from all of us for all the things you do to keep a little Christmas in our lives the whole year through!"
Helen is like George Bailey in It's a Wonderful Life. The world would not be the same without her, in fact most of us here would not even be alive. Maybe now she's like Clarence, Angel 2nd Class, trying to earn her wings. However, with the love and generosity she lived every day with, I'm sure there were wings waiting for her.
The best we can do is live by her example- love others the way you want to be loved. In all we do we can let her memory live on for generations. Don't just take a bath- take a pushky pushky, don't just cook and bake- make turtles and poppy seed bread, when you feel blue drive through Allendale and pretend to buy a house, do word searches, call someone and tell them what you ate for dinner, watch Fear Factor, stay up late and play Yahtzee and Tiddly-Winks, wear a costume on New Year's Eve, and if you're ever lost in Lithuania remember that ush nauda pinigus means I need money and ush nauda valgeit kiausinius means I like to eat eggs…and be the best mother, grandmother, GiGi, and person you can be.
She's with us all always now. She's with Patti in Seattle, Linda in Michigan, she's in Colorado, California, Chicago, and Kenosha, and I know she's sitting on my deck in Montana looking at the mountains. She never wanted to be left out, so talk to her every day and tell her about your day…and remind her what time it is by you.
We must always remember that our happiness made her happy and that life goes on. Next Saturday Brian and I are getting married here at St. Mark's. I wanted to stand up here and wave to her like she always waved to me from the audience, but now all I have to do is look up.
She's sitting next to her brother Tony in heaven at a slot machine where every spin comes up all cherries…and, just as she did on Earth, she's going to continue sharing all her love and happiness with her friends and family.
After the ceremony, please join us for dinner and memories and a little Perry Como music at the Heritage House. Thank you.
xoxo Holly