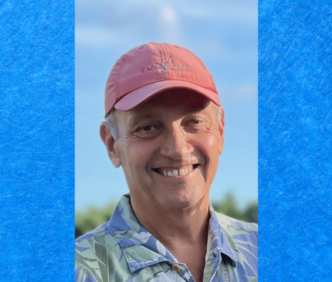 July 3rd, 1951 – September 17th, 2023
*Author's Note: The following are excerpts from the Celebration of Life service for Frederick Leo "Fred" Zievers for you to read, reflect, and pay your respects privately. It was an honor for me to learn about Fred and help capture his story for his family, friends, and for this community. 
~~~
There's a poem called, "The Dash." It's about that little line between our birthdate and our date of passing. A person is infinitely more than those two dates, yet all that is written in between is a little line. That dash has a big job. It encapsulates a lifetime. The people that knew and loved Fred know and respect how he spent his dash. May thinking about that little line bring you comforting memories of Fred's good times, friendship, laughter, generosity, and love.
Fred filled his dash with passion for his profession and goodwill to all. California born and Kenosha raised, Fred, known to his family as Fritz, enjoyed family life with his sister Ann and brothers John, Paul, and Peter. Fred attended Kenosha schools and then earned his bachelor's degree from the University of Wisconsin-Parkside in 1973 and his Juris Doctor from Marquette University Law School in 1976.
Fred had an esteemed, decades-long legal career in the Kenosha area. After serving as an assistant district attorney to Brown and Kenosha counties, Fred entered private practice, retiring with the firm of Zievers & Dowse. Fred was a highly respected attorney and was proud to have argued before the Wisconsin Supreme Court. Fred was a former member of the State Bar of Wisconsin and the U.S. Supreme Court Bar. He was dedicated to the law, and he'd defend people that didn't have anything. His integrity was paramount.
A studious and brilliant man, Fred was an astute observer of American politics. He loved banter. He was a lifelong learner, student of history, and he even minored in Russian History. An avid reader, Fred was known to regularly be reading three books at a time. He had a dry sense of humor and was possibly a bit intimidating, but he really was a big teddy bear. He loved golfing, rooting for the Chicago Bears and Cincinnati Reds, cooking, baking, grilling, and being with his beloved dogs. He was proud of his home and of the land. He'd ask his house guests, "Did you see how I cut the grass?" He enjoyed tending to his yard and pointing out his hard work with maintaining the lawn.
Fred loved his daughter Stephanie and was dedicated to raising her.
Then, 16 years ago, the best thing happened: Melissa Roach called him to be part of a golf foursome. Melissa confessed that she had always wanted to date Freddie Zievers. The two were inseparable after that outing. On August 31st, 2007, Fred gathered friends at Gordy's and surprised Melissa with a marriage proposal. On March 15th, 2008, the couple had an exceptionally beautiful wedding right here at Kemper Center.
Family and friends say that when Fred married Melissa, he was a happy man. Melissa said, "Fred was the best thing that ever happened to me. We had such a good life." Fred and Melissa enjoyed being active in the Kenosha community and loved retreating to their second home in Florida as well. Fred lovingly called Melissa "Bossy Pants" and truly adored her.
Lifelong friend, Kathy Tenuta said, "It was so special to be Fred's friend. He was a wonderful, respectful, unique person. When he laughed, everyone laughed with him. He was always a phone call away. You couldn't find a better friend than Fred."
The consensus among family and friends is that Fred was a big helper. If you had a problem, Fred would fix it. He would never let you down. Being able to count on him was something everyone appreciated and what made being his friend an invaluable experience. His presence will be deeply missed.
~~~
It does feel like Fred's 72 years went by way too quickly. We blinked, and it was over. While no length of time with our loved ones will ever seem long enough, it is an absolute blessing to have had Fred present on this earth for over 7 decades. His time here and his time spent with each of you was a precious gift. May you be ever grateful for the gift of Fred's presence in your life, and may you learn from his words and actions and how he chose to spend his precious time. Look to the good times. Learn the lessons. Live on with the faith that in some way he will always be with you.
~~~
Embrace and share with others the qualities of Fred that you love and miss so much. Cheer on the Bears, go mow your lawn with precision, help your friends, and fill your dash and remember Fred.
~~~
Fred will be forever loved and missed by his wife Melissa, his daughter Stephanie, his siblings John, Paul, Ann, and Peter and their families, and a multitude of extended family, colleagues, and friends.
Fred, may you rest in eternal peace knowing you are dearly loved.
My sincere condolences and love, Holly