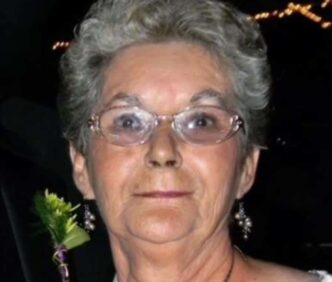 October 1st, 1937 – September 18th, 2023
*Author's Note: The following are excerpts from the Celebration of Life service for Frances Ann Mantay for you to read, reflect, and pay your respects privately. It was an honor for me to learn about Frances and help capture her story for her dear family and friends. 
~~~
We gather today on what would've been Frances' 86th birthday. Daughter Peggy said, "Our little momma loved her Twinkies, and she'd be hearing the Twinkie song for sure today. It's your birthday, have a Twinkie!" It's a bittersweet reminder that we can still smile and laugh and carry on those fun times.
~~~
Where we are experiencing her loss- a missing piece- Frances is experiencing completeness- wholeness. Frances is home now in the loving embrace of our Lord in heaven. Her journey is complete. She is reunited with her parents, Frank and Margaret, her first husband Robert, her second husband Wally, her grandson Bryan, her sister-in-law Grace, and a long list of beloved dogs and cats. She is surrounded by love.
~~~
Frances was a strong, good-hearted, and loving lady. She survived breast cancer, she was widowed twice, and she raised twin girls and three sons. Her family said they never saw her cry or give up. She always held herself together and forged on.
Frances loved to joke and coped with life's challenges with laughter. Her family said she was a good sport. Granddaughter Katy said, "We didn't go light on her, and she gave it right back." Of course, it was all done in good spirits and with love.
Born in Racine, Frances spent her entire life in this community. Her parents grew peonies and sold them to local florists. Peonies were always her favorite flower. Frances liked gardening and painting knickknacks and her home. She played the organ. She loved German Shepherds and all dogs.
She once worked for the phone company back when they had switchboard operators. She enjoyed working and being a member at the 5th Street Yacht Club. As a young woman she met Robert Ehlers who lived down the block on Frederick St. He enlisted in the military and proposed before he left for duty. The couple were wed in 1956. Frances and Robert had four children, Victoria, Peggy, Robert Jr., and Jeff. Frances adored her life as a homemaker and mother. Daughter Victoria said, "Mom was all about family. She was the family." Robert sadly passed away in 1970.
Several years later in 1974, Frances united in marriage with Wally Mantay. The couple soon welcomed son Alex into the world. Frances loved her family, and every get together was filled with ridiculous laughter. Devastatingly, Frances was widowed again and endured the loss of Wally in 1996.
In her 70s, she kicked breast cancer's butt, and continued being a fun and loving mother, grandmother, and great-grandmother. Frances had a lifelong skill of being able to talk backwards- just not on purpose. So many laughs were had because of Frances.
Granddaughter Katy recalled going to Grandma's house every day after school and only wanting to eat mac and cheese. Grandma had to have a constant stock of mac and cheese to appease her granddaughter's culinary request. Katy said she'd tell everyone what an amazing cook her grandma was because she didn't even have to read the box.
Feisty until the end, Frances would try to get out of her hospital bed, and the family would encourage her to stay put. They'd say, "We won't be able to pick you up if you fall." She called everyone "weaklings," and in true Frances-style, showed her love with laughter.
~~~
Embrace and share with others the qualities of Frances that you love and miss so much. Bring laughter to the conversation, grow some peonies, make some mac and cheese, and in honor of this date being her birthday, do what she would've done…have a twinkie!
~~~
Frances will be forever loved and missed by her children Victoria, Peggy, Robert Jr, Jeff, and Alex, her brothers Frank and Paul, her 7 grandchildren, 9 great-grandchildren, many other dear family members and friends, and her dog Piper, and her cat Maggie.
Frances, may you rest in eternal peace knowing you are dearly loved.
My sincere condolences and love, Holly