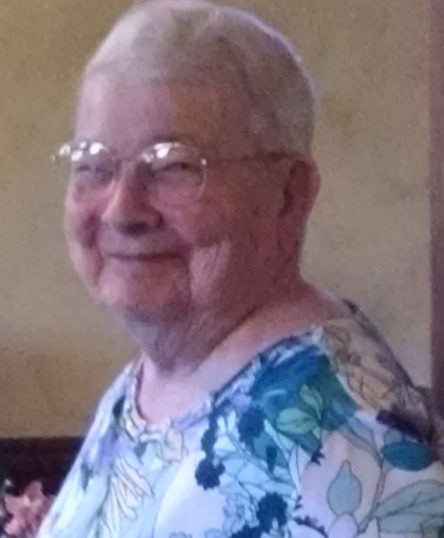 July 20th, 1926 – September 30th, 2020
*Author's Note: We had a gorgeous fall day for this heartfelt graveside service. A ladybug landed on my hand as I began the service and fluttered between my papers and my arm as I shared Evelyn's story. As the service concluded, the ladybug flew away with the breeze and I couldn't help but smile and feel peaceful. With the service having taken place during the pandemic restrictions of Fall 2020, many friends and loved ones were not able to attend. The following are excerpts from the Celebration of Life service for Evelyn Jean for you to read, reflect, and pay your respects privately. 
Mark Twain said, "The mind has a dim sense of vast loss- that is all. It will take mind and memory months and possibly years to gather the details and thus learn and know the whole extent of the loss."
Evelyn's 94 years will take time for you to process. While a great loss is felt by all, may we recognize that her longevity was a blessing to her family and her community. While she is no longer a physical presence in our lives, may we continue to feel her love surrounding us and her legacy living through us. While we are experiencing her loss- a missing piece- may we have faith that Evelyn is experiencing completeness- wholeness. She is home now in the loving embrace of our Lord in heaven. Her journey is complete. She is reunited with her parents James and Magdalene, her sisters Mary Ann and Kathryn Ruth, her brothers Raymond, Willard, Leighton, and John, her beloved husband Clarence "Junie," and her precious sons Jimmy and Kenny. She is surrounded by love.
She would not want your hearts to be troubled. May you find comfort in sweet memories, may you find peace in the ways you find her to still be a part of your present, and may you find hope in being reunited with her some day in the kingdom of God.
When God called Evelyn home a few years shy of becoming a centenarian, Evelyn was ready to follow. While no length of time ever seems long enough, it is an absolute blessing to have had this woman present on this earth for over 9 decades. Her time here and her time spent with each of you was a precious gift. While right now it seems that time went way too fast. May you be ever grateful for God's gift of Evelyn in your life and may you learn from her words and actions and how she chose to spend her precious time.
Father in heaven, we thank you for sharing your daughter, Evelyn, with us here on this earth. There is much to celebrate- her life well-lived and her birth into eternal life.
~~~
How fitting the 23rd Psalm is for Evelyn. She walked through the shadow of death too many times with the losses of all 6 of her siblings, two of her sons, and her husband. She suffered through adverse times. With strength, however, goodness and mercy always followed. She persevered through every hardship with her grace and determination to live a productive, faithful, and happy life.
Evelyn Jean was born in Mystic, Iowa 1926. She had a beautiful voice and was a soloist and talented organist for the Methodist Church. She even "cut" a 78 record of one of her solos. As the family cleaned her home this week, they noted her stacks of hymnals by the organ with her favorite hymns still marked with clothes pins. She was a drum majorette and an athlete in the legendary Iowa girls' basketball program.
Through sharing memories of Evelyn this past week, grandson, Tyler, wrote that he will "always remember (Grandma) being an independent and progressive woman. She played basketball when women barely played sports at all. She was very into the outdoors and camping when I'm guessing that wasn't very popular for women at the time either. She was really ahead of her time in just being a woman who did what she wanted to do and didn't care what other people thought. I think that rubbed off on me and our family."
During the summers of her high school years, Evelyn would travel by train to Burlington, WI to work at Moore's Lakeside Resort on Browns Lake. It was at a summer 1943 dance at the Browns Lake Resort that she met Junie. On April 14th, 1945, while a senior in high school, she married Junie before he was redeployed in the service. On a larger historical scale, their wedding happened simultaneously with the funeral for President Franklin Roosevelt. The couple felt honored that all of the stores were closed at that time. After her graduation, she moved to Burlington to await Junie's return from the Navy and to make their home.
After the war, Evelyn and Junie welcomed 3 sons into the world. Tragically, they lost two sons during childhood. The grief and sadness Evelyn experienced shaped the remainder of her life. In a newspaper article celebrating the couple's 60th wedding anniversary, it is written that, "They feel that their faith in each other through sorrow and joy is what has kept them together all of these years." Evelyn and Junie learned how to persevere amidst tragedy and how to rise up together. They found within themselves and each other the incredible strength and remarkable love they needed to continue on their life journey. Becoming understandably over-protective of their son, Larry, they doted on all of his activities and achievements and enjoyed many years of camping and traveling across the United States as a family.
As Larry grew up and started a family of his own, Evelyn remained a loving, integral part of Larry's life. As an adult Larry coached a high school volleyball team. His parents attended every match and cheered the team on. Larry asked his parents why they sat so far away from the crowd. His mom replied, "We don't want to hear all the things the parents are saying about you."
Evelyn joyously welcomed her daughter-in-law, Sue, into the family. However, she made it clear that Larry was her blood. Sue reminisced that as a wedding shower gift Evelyn gave her a beautiful quilt that her mother had made. Sue said, "As I thanked her, she reminded me in front of the group that if Larry and I were to divorce he would get the quilt." Over the course of the past 43 years Evelyn and Sue chuckled many times about that declaration of quilt ownership.
Caring for others with her generous nature and with nourishment for the body and soul were staples to her livelihood. For nearly 30 years she was the head of food service for the Burlington Area School District, head cook at Mount Carmel Care Center, and head cook at Total Child Care Center. Evelyn was an avid Wisconsin sports fan. You'd fail at any attempt to tear her away from a Badger, Brewers, Packers or Bucks game. Evelyn was a member of the Order of the Eastern Star and the Fork River Sweet Adelines. She was a beloved friend to many with her strengths of humor, persistence, and organizational skills. But above all else, the most cherished title she held, was Grandma.
Her two grandsons, Adam and Tyler, were lights of her life. The feelings were undoubtedly mutual. These boys adored their grandma. And Grandma's house! Oh, the magic and joy and comfort of Grandma's house. They'd get a handful of M&Ms on the way in and a handful on the way out. Ever thoughtful and caring, Grandma was always prepared with a backup bag of M&Ms, too. Tyler reflected on Grandma's basement saying, "Their basement had so much cool stuff in it. From the little model of the Space Needle, the full bar setup, the pool table, the cowboys and Indians figures. They must have had a lot of fun back in the day with that full 60's bar they had. Going down in the basement and looking for neat stuff was an adventure and she always encouraged us to explore down there and just have fun. She'd also give us anything we wanted out of the basement later in life for our own houses."
The two boys have such heartfelt memories and beautiful sentiments of their grandma and how she shaped their lives that I'd like to directly quote them a bit more.
Grandson Adam wrote, "Grandma will always live on in two distinct images from two very different times in my life. When I was little, my most vivid recollection of Grandma was of sitting in the TV Room with her by my side as she read to me from as illustrated collection of Bible stories. I don't remember those Bible stories well, but I do remember those hours next to her, listening to her voice, being the sole recipient of her attention, feeling warm and loved.
The second image is much more recent. In 2017, my wife, then-girlfriend, Kerri, and I brought her son (now my step-son) Leo to meet my family over the holidays. The moment Grandma saw Leo she pulled him into a vice-like hug and would not let go. She smiled and smiled, her love for this boy she just met so vibrant and strong. Every time they saw each other after that Grandma would hug Leo tight and smile and smile all over again."
Feelings of comfort, love, and acceptance prevail in Tyler's memories as well.
Grandson Tyler wrote, "I always remember her being at all of my sporting events. No matter if they were home or away at some other school, she'd always be there with Grandpa in their lawn chairs. It seemed like they never missed a game. That was always a nice thing to see when playing and give you a sense of comfort knowing they'd be there through thick and thin.
An interesting memory is that she was always a very anxious person and I specifically definitely inherited that from her. So, whenever I was feeling anxious about (something) I always felt like I could express my true anxious feelings to her because she would get it. I always felt like she could calm me down when I was (stressed) because she experienced the same anxieties throughout life and knew how to deal with them better than I did."
The importance of compassion, understanding, love, and of having a well-stocked drawer of M&Ms were passed from one generation to another because of Evelyn. She made the difference. And that was a choice she made many decades prior- to let goodness and mercy prevail, to be the light, to rise up and carry on.
After her Junie passed in 2010, Evelyn continued to be strong and live independently. She stayed organized and involved with her precious family. She balanced her checkbook to the penny and was very proud of that. She only recently needed additional care and heartfelt gratitude is given to the compassionate staffs at Oak Park Place, Burlington and Kindred Hospice. It wasn't long until she heard Junie, Jimmy, and Kenny calling her home and she willingly said, "I am ready." They are now together again forever.
Mother Teresa said, "I have found the paradox, that if you love until it hurts, there can be no more hurt, only more love." Through the grief and the loss, may you focus on the love, learn to embrace life, and be ever grateful that all of this happened according to God's plan. In Evelyn's memory, please pay forward the love, kindness, and acceptance that she so freely gave you. Continue to share with each other the stories, the memories, the qualities of Evelyn that you love and miss so much. May her legacy live on every time you carry out a kind deed for someone in need.
A lasting vision of Evelyn saying good-bye is summed up by Tyler:
"My lasting memory of (Grandma) will be how whenever we were about to leave she'd get up and walk us to the door. Then as we got in the car she'd partially open the screen door and watch us all get in and wouldn't leave that spot until we had fully backed down the driveway and driven out of sight. I always thought that was a very loving thing to do and very comforting because it was always the same routine every time. Whenever I picture her now that I can no longer see her I'll always picture her standing in that doorway watching over us as we pull down the driveway."
My sincere condolences and love, Holly